Mission
In the spirit of fellowship and comradeship, our mission is to support and provide our fellow veterans – who are homeless or in transition – with the life skills, confidence, self-advocacy, and job skill training through the culinary arts and the resources needed to lead a productive and independent life. 
Vision
Our vision is to see our fellow veterans overcome their personal obstacles and create success in their lives.
Program
Culinary Arts Boot Camp for Veterans is a 501(c)(3) nonprofit organization whose mission is to support the veteran community by providing both camaraderie and job training to those veterans facing homelessness, unemployment, and who struggle with transitioning into civilian life.
Culinary Arts Boot Camp for Veterans is an intensive eleven-week culinary arts program that will prepare participants with the necessary skills to enter the restaurant industry and find employment as a line cook or prep cook. As part of the program, participants will also work with Full Battle Rattle Deli (veteran-owned and operated) as part of their training and gain the knowledge and skills to work in the food service industry. Full Battle Rattle Deli and Culinary Arts Boot Camp for Veterans are two separate entities that work together to support veterans with not only theory and instruction but an opportunity to gain hands-on experience. In addition to Culinary Arts training, participants will attend classes to support them with job readiness skills to successfully enter the workforce and maintain employment.
Education and job training are just one facet of this program. An obstacle facing a veteran who is homeless is housing, resources needed to complete this program, classroom materials, and support to find gainful employment. Taking a holistic approach, Culinary Arts Boot Camp for Veterans has partnered with community organizations to address this and provide everything the veteran will need to successfully complete this program and reintegrate into our community.
Interested in joining our training program? Download our flyer for more details and contact information.
Discrimination Policy
At Culinary Arts Boot Camp for Veterans, we value all participants as unique individuals and we welcome the variety of experiences they bring to our program. As we did in the U.S. Military when we looked at each as peers and equals, we will continue to see each other as such even as veterans.
In this same regard, we have a strict non-discrimination policy. We believe everyone should be treated equally regardless of race, sex, gender identification, sexual orientation, national origin, native language, religion, age, disability, marital status, citizenship, genetic information, pregnancy, or any other characteristic protected by law. If you feel that you have been discriminated against, please let your program supervisor know as soon as possible. Every complaint will be appropriately investigated.
Our Crest
In the Armed Forces, a unit crest distinguishes which unit a soldier is part of and promotes esprit de corps. The design may include important decorations, honors, combat services, and missions. It tells the story of the unit and is worn with pride.
As veterans working together as a unit, we have carried on this military tradition and have created our own unit crest to represent our story, our esprit de corps, and what we stand for.
Maroon represents confidence, excitement, power, risk, passion, love, ambition, courage, and strength.
The blue candle represents loyalty, strength, wisdom, and trust.
The candle illumination represents that there is light in whatever situation you are experiencing.
The flame is two hands; these hands represent "helping hands." Meaning that by working together, we can overcome any obstacles in front of us and "veterans supporting veterans."
The knives represent Culinary Arts training.
The stars have been used as navigational points for travels in the past. Our stars guide us and keep us focused on the mission that we are on.
And our motto, "Camaraderie leads to success."
Though we are no longer in service, those veterans who participate in Culinary Arts Boot Camp for Veterans are part of a unit; a very special unit of veterans working together to support each other's success.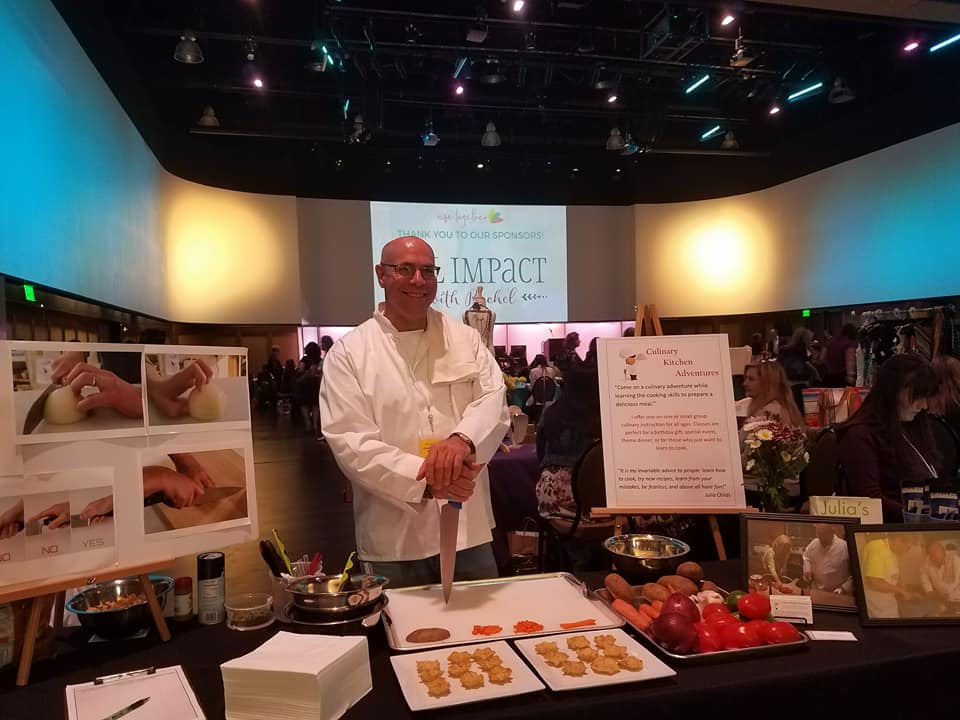 After leaving Denver Public Schools as a Special Education teacher for 13 years, Michael, an 8-year US Army vet who served as a Food Service Specialist, decided it was time to fulfill his dream of being a vet serving other vets in need. He formed two businesses at the same time – Culinary Arts Boot Camp for Veterans and Full Battle Rattle Deli – to work hand in hand to both prevent vets from experiencing homelessness in the Denver community and also provide them with a meaningful and fulfilling career.
Last modified: December 18, 2022